O projeto é a continuação do "Álbum Verde" (alusão ao álbum BRANCO da banda britânica), que uniu artistas de reggae da América do Sul em 2005 para regravar músicas dos Beatles. Agora com o lançamento de Hemp (alusão ao álbum "HELP!") a ideia dá um passo além.

Esta coleção de três CD que conta com a participação de 56 artistas dos quatro cantos do mundo, sendo Américas, Europa, África e Oceania. As músicas foram gravadas em 35 estúdios diferentes.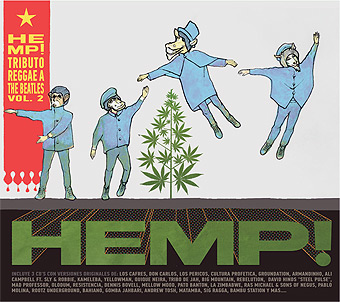 (Capa do álbum "HEMP")






RECRIANDO AS LENDAS


Beatles é indiscutivelmente a banda mais influente na história da música de todos os tempos. A revista Rolling Stone considera a banda a que mais vendeu álbuns em todo o mundo e classifica quatro de seus discos entre os "500+ de Todos os Tempos".

Nomes como Groundation, Ali Campbell, Don Carlos, Rebelution, David Hinds, Yellowman, Big Mountain, Cultura Profética, Tribo de Jah, Armandinho, Olodum, Bambu Station, Los Cafres, Dennis Bovell, Leões de Israel, Andrew Tosh, Mad Professor entre outros homenagearam os Beatles nesse álbum histórico.




('Can't Buy me Love' com Aline Duran e Andrew Tosh)






TRACKLIST





CD#1
1. A Hard Days's Night – Ali Campbell (feat. Sly & Robbie)
2. The Fool On the Hill – Sig Ragga
3. Yesterday – Ras Attitude & The Oneness Band
4. Sgt. Pepper's Lonely Hearts Club Band – Los Pericos
5. Love Me Do - Mellow Mood
6. Ticket to Ride – David Hinds
7. Across the Universe – Quique Neira & Dubies
8. Come Together – Groundation
9. And I Love Her – Desmond Foster
10. Help! – Gomba Jahbari
11. Let It Be – Olodum
12. All You Need Is Love – Pablo Molina & Leoes de Israel
13. You Won't See Me – Raging Fyah
14. Flying – Dennis Bovell
15. I Am the Walrus – Nairobi & Ugo
16. Imagine – Big Mountain





('Ticket Ride' com David Hinds do Steel Pulse)





CD#2
17. All Things Must Pass – Cultura Profética
18. Something – Nkulee Dube & The Robotiks
19. Back in the USSR – La Zimbabwe
20. In My Life – Yellowman & Timaias
21. All My Loving – Matamba
22. Please Mr. Postman – Sister Mary Elephant & The Pitch Pipes
23. Blackbird – Bahiano
24. Michelle – Tribo De Jah
25. Please Please Me – Rebelution
26. You Got to Hide Your Love Away – 10 Ft. Ganja Plant
27. From Me to You – Prezident Brown
28. Love Me Do (Reprise) – Pato Banton & Mellow Mood
29. The Inner Light – Bambú Station
30. Dear Prudence - Jahdan Blakkamore & Humanidub
31. While My Guitar Gently Weeps – Gaudi
32. Give Peace a Chance – Ras Michael & The Sons Of Negus



CD#3
33.) Obladi Oblada – Don Carlos & Dub Vision Band
34.) Till There Was You – Los Cafres
35.) Can't Buy Me Love – Andrew Tosh & Aline Duran
36.) If I Needed Someone – Kameleba
37.) Let It Be – House of Shem
38.) Across the Universe – Rootz Underground
39.) And I Love Her – Congo
40.) Got to Get You Into My Life – Armandinho
41.) The Fool On the Hill – Danakil
42.) I'll Be Back – Mad Professor
43.) Tomorrow Never Knows – Destroy Babylon
44.) Revolution – Resistência
45.) Hey Jude – 1814
46.) Day Tripper – Sebastian Sturm & Exile Airlines
47.) Octopu's Graden – Sessiones & Dubmatix
48.) Don't Let Me Down (Live) – The Aggrolites




Fonte: Equipe Surforeggae



'Beatles'

Beatles em Reggae no SESC, e de graça! Dub Hearts Club Band será tocado ao vivo com intervenções de músicos!


Grandes nomes do reggae se reúnem em CD triplo em homenagem aos Beatles! Ouça!


Admirados até por lendas do reggae, a banda de Beatles cover, the Beats, faz show em São Paulo!


BEATLES e REGGAE! Mais um feliz encontro dos meninos de Liverpool com o ritmo Jamaicano!


Respeitados até pelos grandes nomes do Reggae, a melhor banda cover de Beatles volta ao Brasil!


Aclamados até pelo público tradicional de Reggae, a banda de Beatles cover, the Beats, faz show no Via Funchal!


Saiba mais sobre o lançamento do Tributo aos Beatles com participação do Planta e Raiz!


Morre Rosco Gordon, compositor gravado por Elvis e Beatles!